Creative Soul Writing & Mindfulness Retreat for Women in Scottsdale, Arizona
November 8, 2019

-

November 10, 2019

Please Inquire for Cost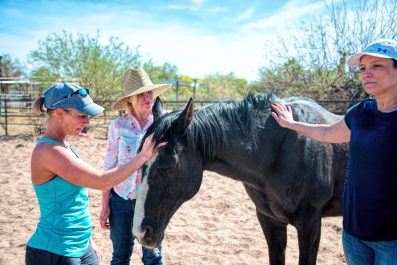 CREATIVE SOUL RETREAT
A MEDITATION, WRITING & EQUINE EXPERIENCE FOR WOMEN 
NOVEMBER 8-10, 2019 IN CAREFREE, ARIZONA
Find a renewed sense of belonging in the world, just as you are through writing, meditation, mindfulness and being with the rescued horses of the Tierra Madre Sanctuary.
For many, writing is a spiritual practice which can lead to expanded self-awareness and a profound experience of timelessness. Spending time with horses can shift your perspective as you see the world through their eyes and hearts.  The same is true of the practice of meditation, it can transform you physically, spiritually, and emotionally, as it allows you to connect with your true nature, commune with your creative soul, and find the confidence to express yourself without fear – with or without words.
Co-facilitated by best-selling Hay House author Sarah McLean, and equine experiential coach Christine Badoux, this weekend women's retreat is designed to take you on a journey deep into yourself. You'll cultivate your creative soul and trust your voice and its place in the world.
Sarah, Christine, and the horses will co-coach you into deep mindfulness practices, provocative writing exercises, and timeless moments of connecting with your heart and true nature.
Learn and experience deep meditations and dive into that sense of home found inside you
Discover powerful mindful walking, listening, and eating practices to be more enamored with your beautiful life
Reveal and express your creative soul with journaling and writing prompts
Transcend your inner critic and trust what wants to be written
Express yourself spontaneously and be heard without judgment
On Friday, we'll have an opening gathering to connect and explore the powerful mindfulness, meditation, and writing practices. On Saturday, you'll journey to the Tierra Madre Sanctuary and meet the rescued horses. They'll teach you about being more present, tapping into your intuition and senses, and how to be strong and gentle at the same time. You'll find they help you access a deeper creative expression of yourself. (You won't be riding the horses, instead, you'll connect with them to learn a lot about yourself: the way you show up and how you express who you are.)
You'll ahve the opportunity to bask in nature, take time for spa treatments and rejeuvenation, and unplug to find deep rest and the lightness of being.
Who is Welcome:
Women with any level of meditation and/or writing experience are welcome. You don't have to be especially artistic or creative, nor do you need an established meditation practice to attend. You simply need courage and a desire to be inspired, write, and cultivate self-awareness. You won't be riding horses during the retreat and no previous horsemanship experience is necessary.
When:  November 8-10, 2019
The schedule: (subject to change):
Friday
5:00-7:00 pm. Welcome Gathering
Saturday
8:30 am. Departure for the Tierra Madre Sanctuary
9:00-11:30 am. Morning Mindfulness, Writing & Equine Experience
11:30 am. Return to Civana
12:00-4:00 pm.  Lunch & Optional Hike, Spa Treatments & Watercolor class
4:00-6:30 pm. Happy Hour Meditation, Writing, & Sharing
7:30 pm. Optional No-Host Group Dinner
Sunday
7:00 am. Optional Morning Stretch
9:30 -11:30 am. Morning Meditation, Writing & Sharing
11:30 am Retreat Ends
Lunch & Optional Private Equine Experience Sessions
Where the Retreat is held:
At the Civana Resort in Carefree (480) 653-9000
Tierra Madre Horse Sanctuary, Cave Creek, Arizona   (480) 469-9166  tierramadrehorsesanctuary.org
The retreat has been held over the years in several inspiring and magical places: Big Sur, California; Sedona, Arizona; and Teton Valley, Idaho. Nourishing and powerful environments are selected to support your personal transformation.
Registration & Retreat Fees:
Please inquire.
A portion of the retreat fee is donated to Tierra Madre for the continued care and feeding of the horses.
Email Events@McLeanMeditation.com
View the meditation retreats cancellation policy and service animal policy, here.
What's Included:
Meditation Instruction & Mindfulness Practices
Writing Practices & Coaching
Equine Experience for Self & Awareness the Horses of Tierra Madre
Does not include your transportation, optional  spa treatments, meals
Your Facilitators:
Sarah McLean is a best-selling Hay House author and popular meditation and mindfulness teacher who offers provocative mindfulness practices and expansive writing exercises. She's traveled the world seeking insights into meditation and has lived in a TM Center, a traditional Hindu Ashram, and a Zen Buddhist training center. She served as the program director for Deepak Chopra's Center and was the director for Byron Katie's School. She's now the director of the Meditation Teacher Academy.  Find out more about her here.
Christine Badoux is a highly trained experiential coach who promotes the learning and healing that occurs between horses and humans. She coaches at Tierra Madre Horse Sanctuary where she is a (volunteer) Program Director. She's also a Certified Assertiveness Coach who offers individual and group coaching sessions, workshops, and retreats. In a prior life, Christine spent more than ten years in the hospitality industry working for Four Seasons and Westin Hotels. She lives in Phoenix with an ever-expanding family of animals and her two favorite teachers: her children Isabelle and Alex. Visit her website: www.christinebadoux.com
Related Events